There are only so many days you are supposed to can get away with drinking whiskey at 7am without guilt. On St. Patrick's Day, 2021, my brother Keegan and I kicked off celebrations early, with an elevated Irish coffee.
Recipe
What you need:
Black Coffee. Make it strong. I like Black Rifle Coffee Company
Irish whiskey. I like JameO. Bushmill's is great too. Can't go wrong with Tullamore D.E.W.
Bailey's.
Heavy Whipping Cream
A clear mug.
My Notes:
You can dump some whiskey in your coffee and suddenly it's Irish. But why not take it to the next level. Inspired by the Buena Vista in San Francisco, a Bailey's flavored cream float will set your Irish coffee apart from the competition. It tastes fantastic and it's quite simple.
Next St. Patty's Day I won't bother adding Bailey's to the drink and to the cream. One or the other is plenty.
Don't both with sugar.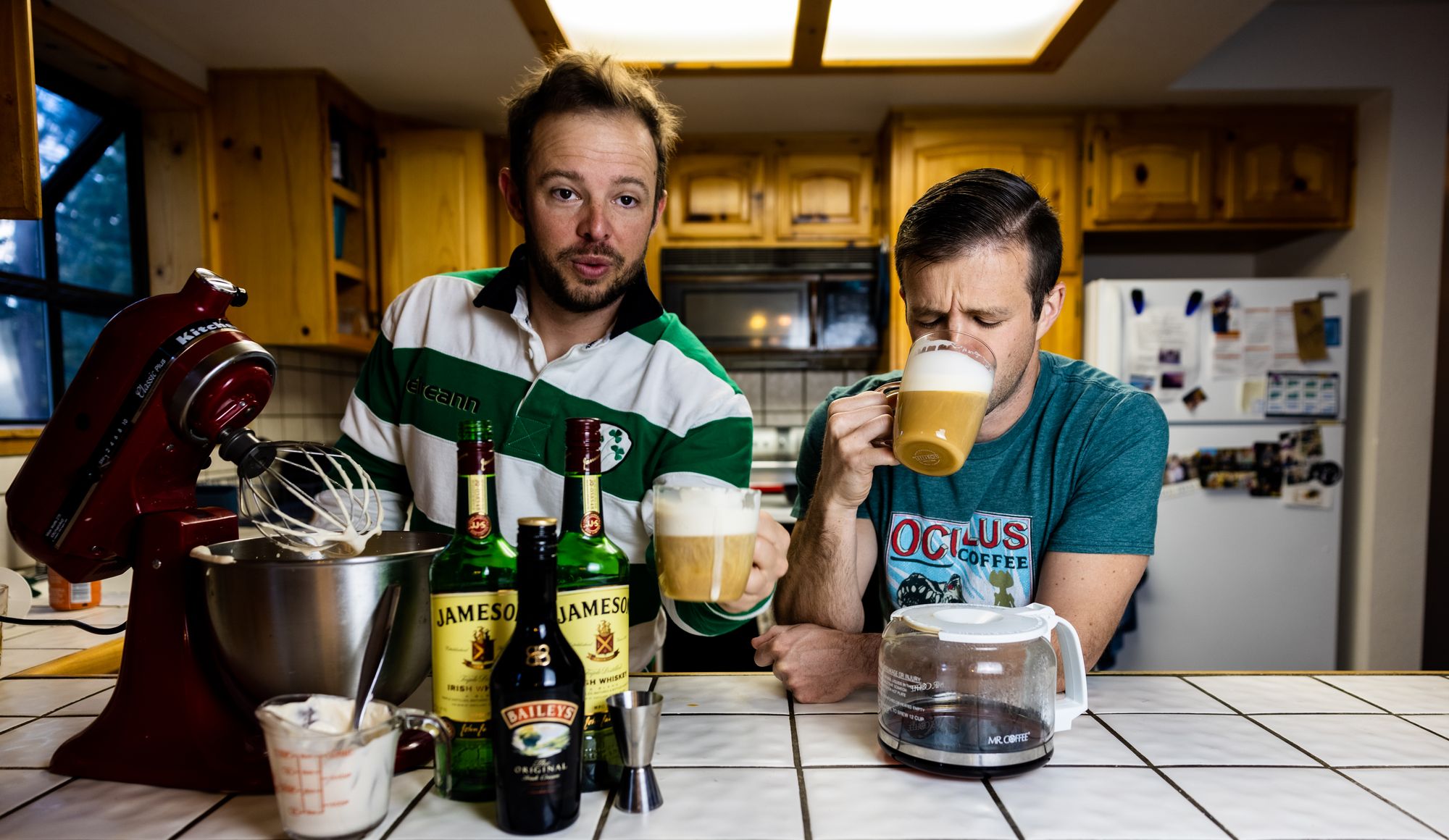 Steps:
The cream:
Make more than you think you'll need. You'll be dipping your finger in repeatedly it tastes so good.
Whip your cream, but not too long.  Thick but not stiff. Think whipped cream foreplay. You want it to flow a little, and this allows it to beautifully float on top of your drink.
Add some bailey's to taste and mix in. A couple tablespoons is probably plenty.
Assembling the drink:
Make strong coffee. Fill your mug 2/3 full with it. Clear is best - you want to see the beauty.
Dump in a shot of Irish whiskey. 1.5oz. Now is not the time to be afraid.
Optional: Add bailey's. Especially if you aren't doing cream. 1/2 shot works.
With a spoon, gently float your cream on top. Camera eats/drinks first, and you want this to sit on top of your boozy coffee in a photo worthy layer.
Enjoy! I always take the first sip before mixing so the cream makes a nice mustache. Then, do what you want.
The video
Overall: This was probably the most fun video I've made yet and feedback seems to agree. The fun and ridiculous nature seems to have gotten some laughs. Collabs are key.
Length + Editing: I also made a short version, with a goal to see what it would take to get the video down to under one minute. This was TOUGH. Even the 3 minute version felt like I trimmed a lot. I wanted to balance telling the telling the story (our dialogue) with a number of shots I wanted to use. Overlaying some of the pretty shots with dialogue was the only way to make this happen. I got down to around 1 min 20 s and then just went through removing half a second here and there to make the video extremely tight. I'm not sure which version I like better.
Other notes:
Occasionally we lose focus on our faces and it's locked on something on the counter. I had the face recognition focus feature disabled.
Color correction is key.
Two dudes one video. Getting b roll with someone else around makes it so much easier, and I LOVE some of Keegan's more dramatic panning shots while I'm making the coffee.
Lighting - this was the first time I used a big studio light and it made all the difference. So much easier and less to worry about than trying to balance things with home lighting. The Tahoe content house is coming together.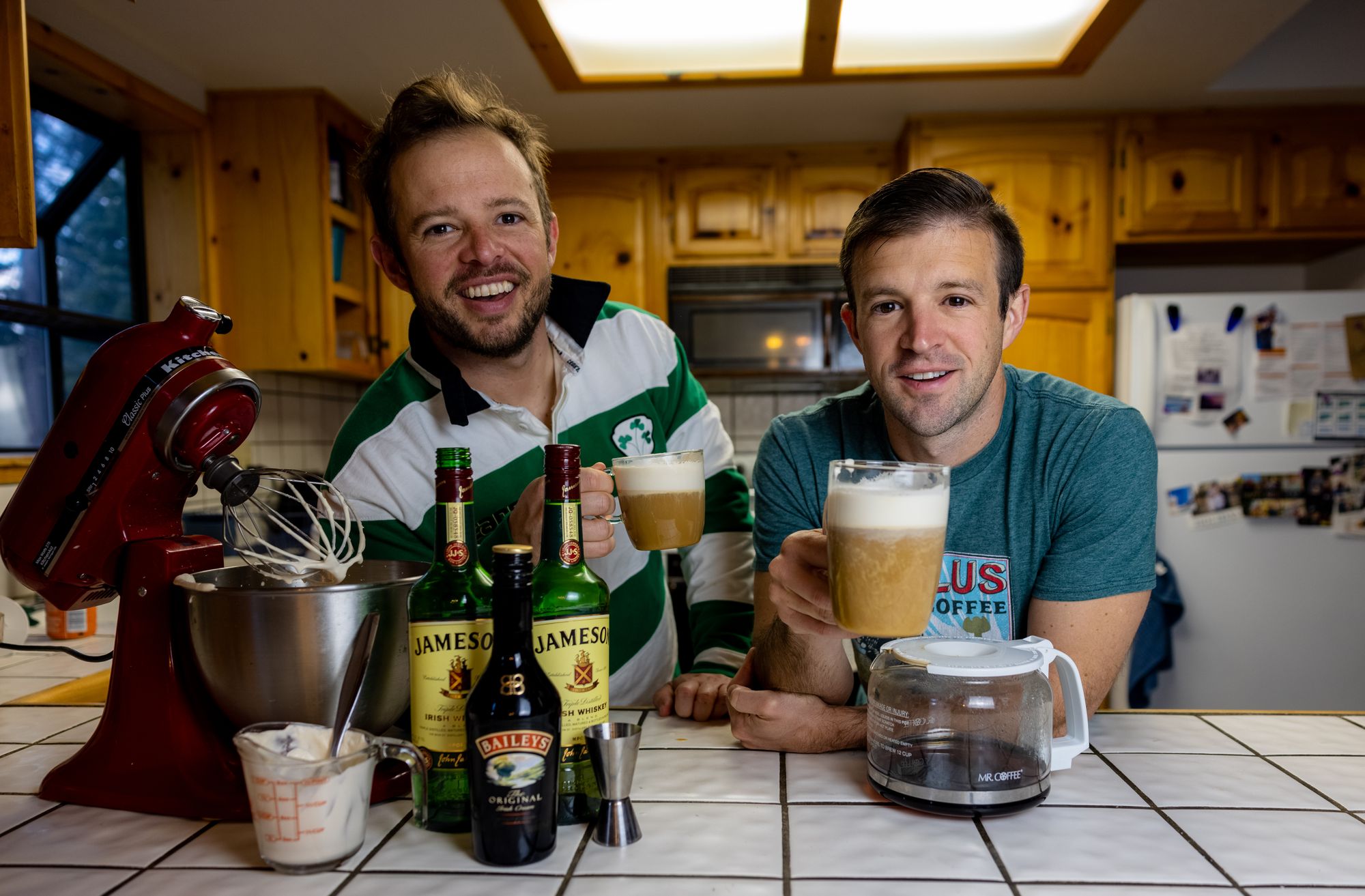 ---
Subscribe
Join the newsletter to get the latest updates.
---