Excellent pizza. Backed up with an incredible bar and cocktail list. Sign me up. I'd gone past Old Town Tap in Truckee, and it always seemed busy, but never made the effort to show up. When one of the local attendees at my AIARE 1 training mentioned it's her favorite spot to eat in town - mushroom pizza add pancetta, I had to try it. I've been many times now, and on one trip with my dad I was raving about the cocktail to our waitress. She offered to get the recipe...and a few minutes later the bartender stopped off with multiple bottles and shot glasses. We tried each part separately, and while they didn't give the exact details...I was armed with enough to try it on my own.
Cutting to the chase - I'm still working on a "how to make" video. Here's the sizzled-up, hype-inducing, make-your-mouth-water, wait-are-you-a-pro product "ad".
Recipe
Sorry, not dropping this yet! Stay tuned for part 2.
Making this video
I had a few goals in mind with this video I wanted to see if I could pull off:
At least one seamless transition
Lots of slow motion / speed ramping
Keep things close - focus on the product
Do some sound design - integrate some sound effects
Do some kind of tracked title / appearance
See if I could do a fully faked composite using other assets
Seamless transition
This is the hot opener right after the title. Lime gets tossed up. It slices itself on the drop! I watched a few tutorials on youtube, and decided to just copy Daniel Schiffer. Essentially it boiled down to trying to keep things consistent: size of the lime, speed of the clip, location of the lime. And GO FAST on the transition point.
Bother Leary was a trooper here. I had him toss the lime ~50 times until we got a shot I was happy with. I was often too tight with the shot, and had to just relax and step back a little. Dropping the limes we got in ~10 attempts, which was nice because rebuilding the lime each time was more of a pain.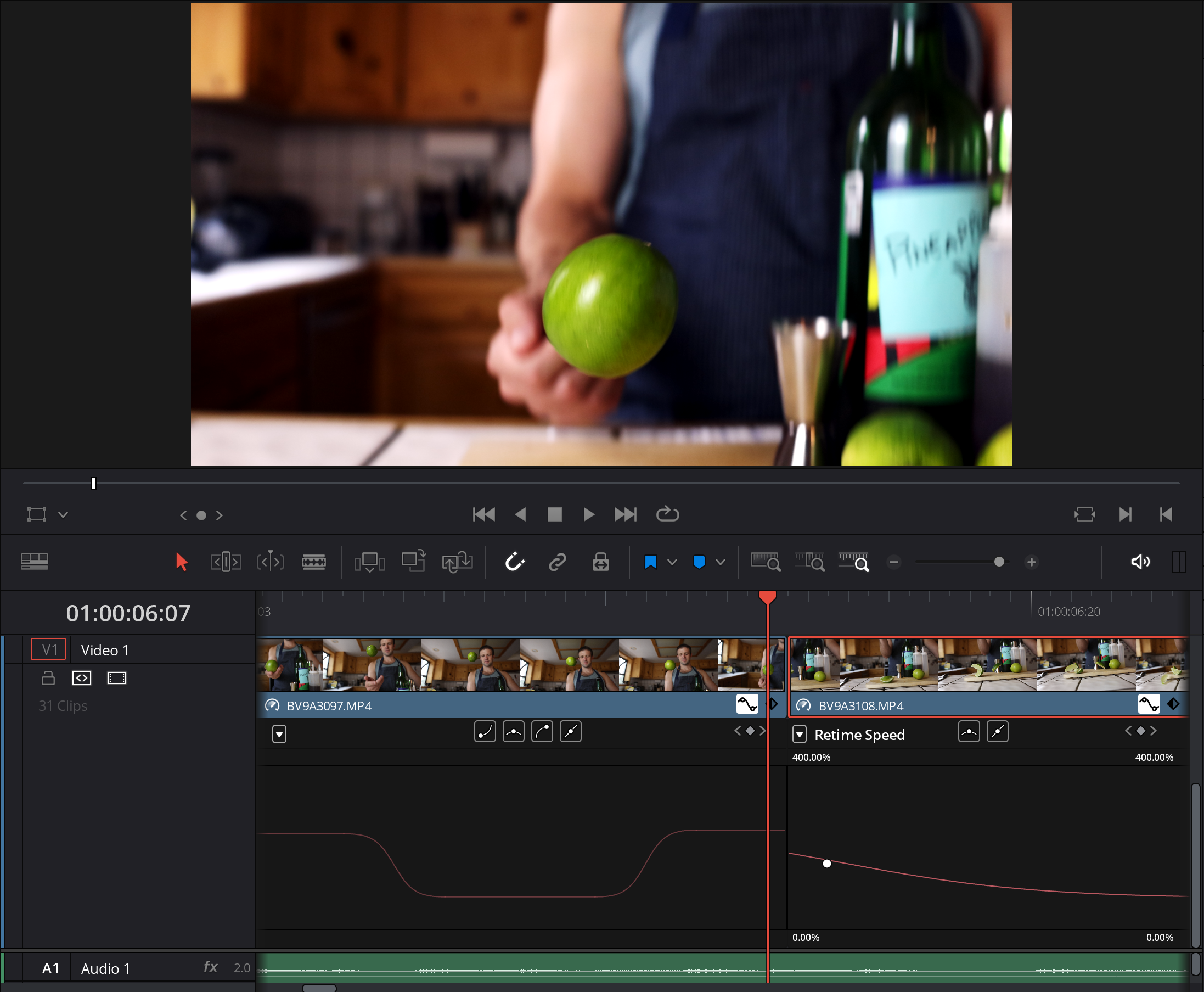 I could have cleaned this up more, getting the lime into exactly the same spot. When the speed is ramped you don't really notice it...or the fact that Keegan's arm relocates in the quickest bicep curl ever completed. End of the day - I love how it looks.
Slow motion / speed ramping
I shot this video on the Canon R5 with high framerate mode enabled. I need to do more research on the settings there, because the file sizes are ABSOLUTELY MASSIVE. Also, it seems to do a weird thing where these videos are all 120 or 240 fps, but coming out of the camera show as 30fps.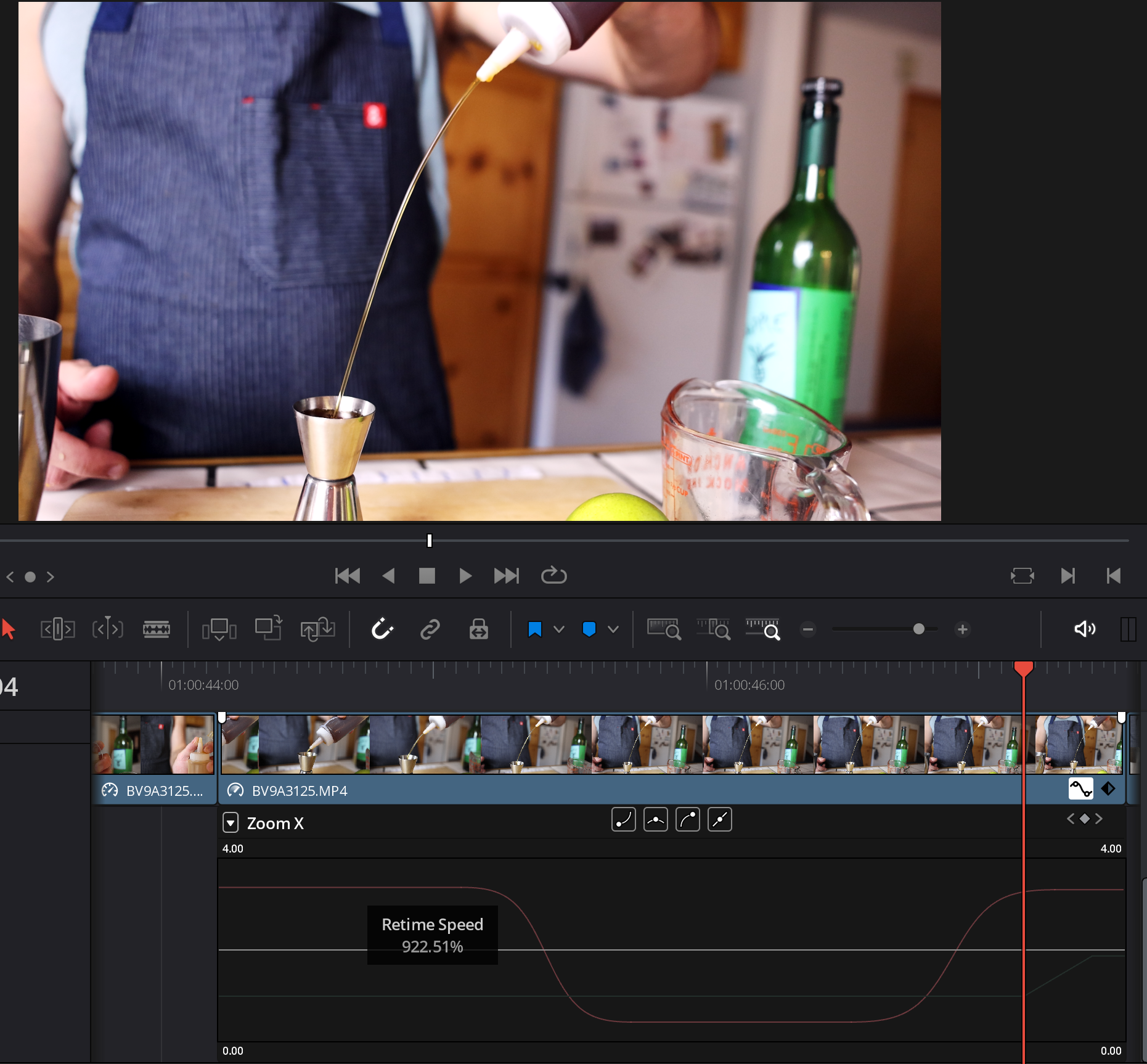 This really just helped the video come alive and sell some of the transitions. I really liked some of the slow tajin shaking, ice drop, and drips coming off the cocktail shaker. Happy with what got done here, and the slow motion at the end almost always gets a laugh.
Keep things close
Things in the video are nice and tight with lovely blurred backgrounds. When shooting this, we went too fast. I have a LOT of unfocused footage. I learned quickly - be the boss and say when things are ready to go and what you want / plan. If you have something in mind, say it early and often and really direct the talent. Keegan was awesome as we worked through it...it definitely took some patience on his part when I'd say nahhh we gotta do that again I was focused on the fridge in the background for some reason.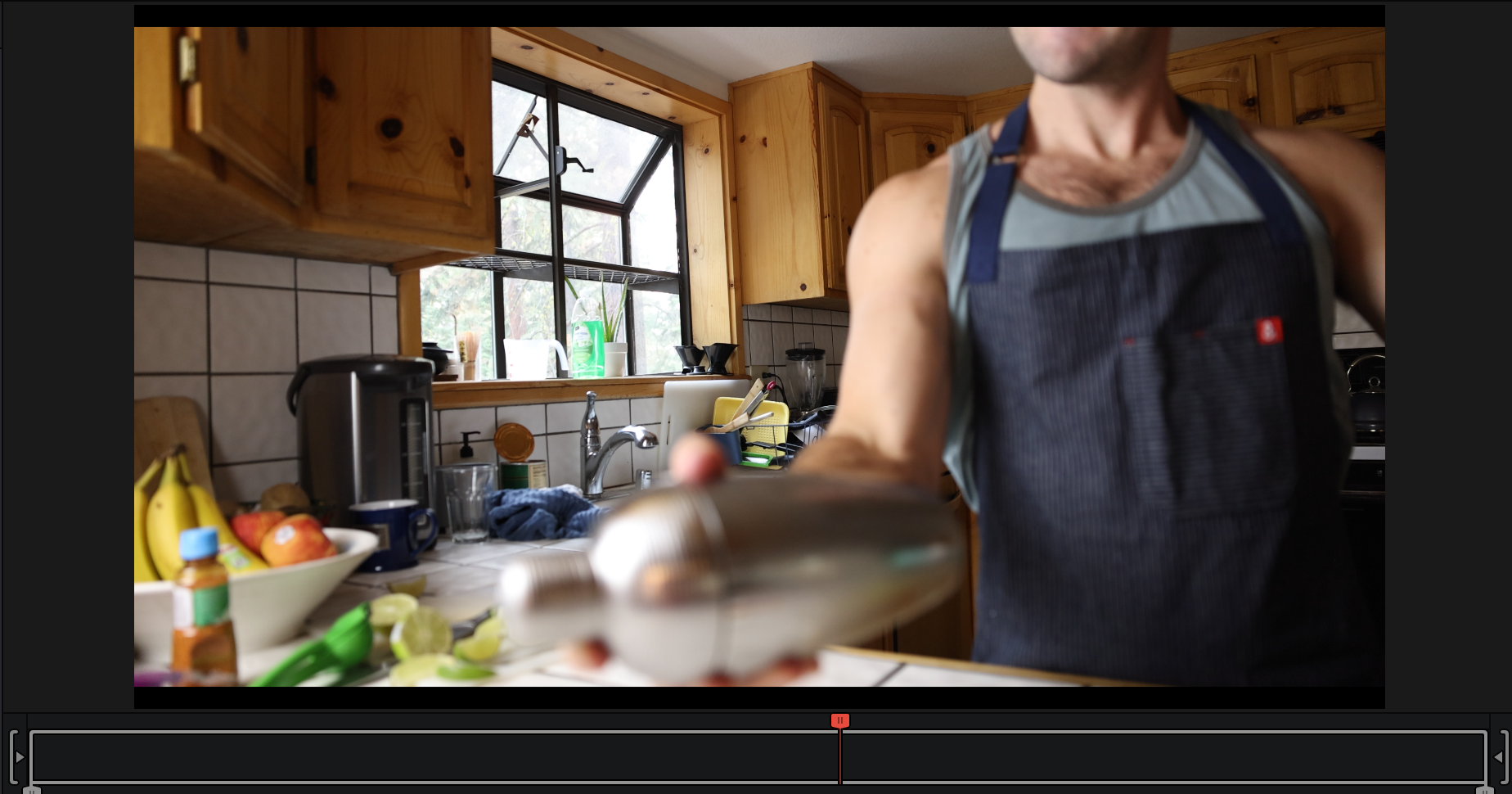 Sound design
High framerate mode disables audio on the camera. Jumping into video stuff, I've obsessed over video quality. Turns out...sound REALLY matters. One awkward sound totally ruins things for people - in my butter ginger scallops video there was music playing at one point I didn't totally remove. EVERYONE commented on that. No one mentioned the 3-4 areas there was some briefly blurry footage.
Initially I hated this, it sounded weird to me. It was a lot of work! Searching for sounds is a huge pain. I shared a sample with Keegan and he said "these are great. DO MORE. CRANK IT". This really motivated me and I dug in.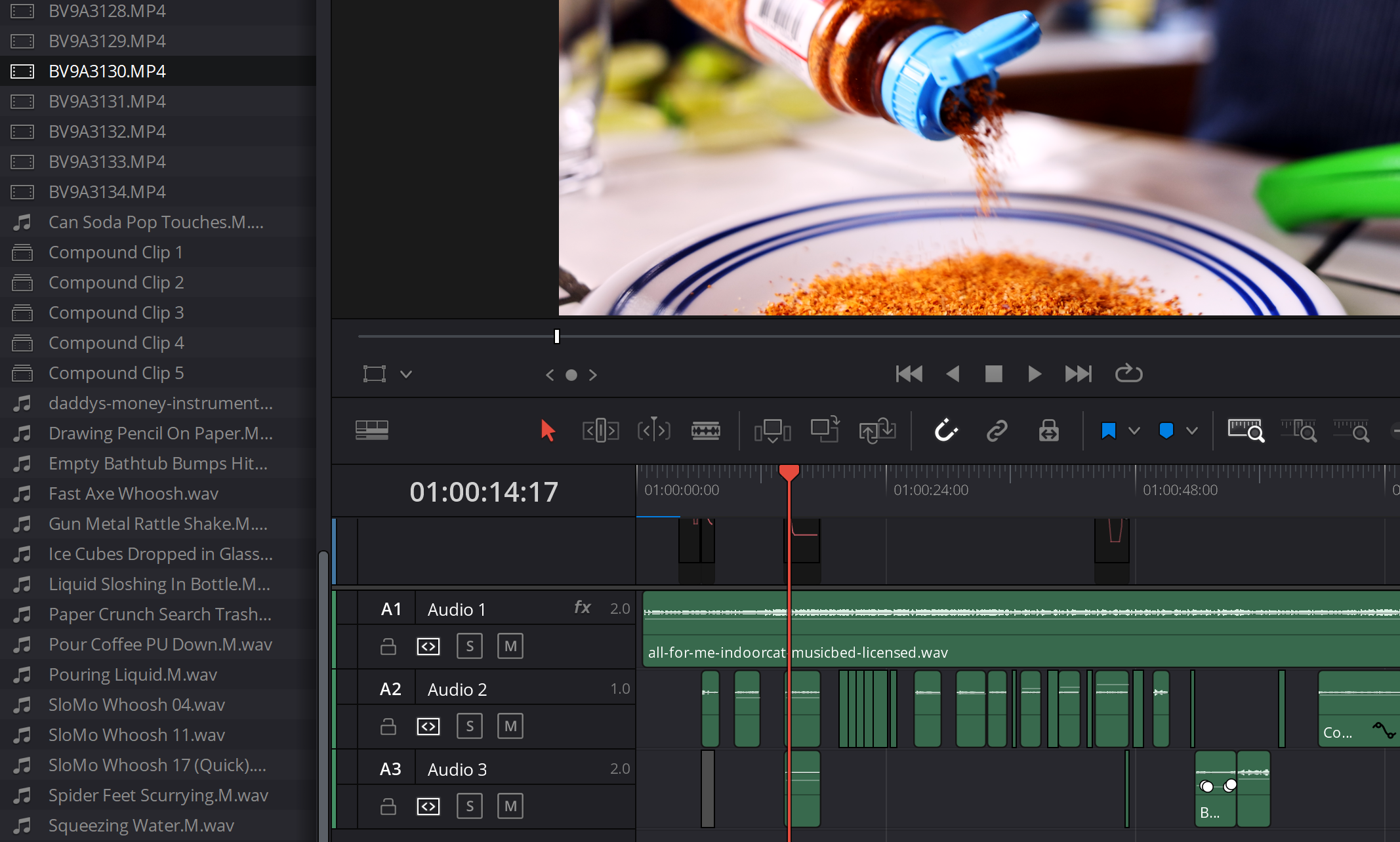 Sound design is crazy. Who'd have though spider feet scurry + crinkling paper could sound like Tajin being shaken out onto a plate. I even did some of my own work, and for the ice shaking took audio from another clip, messed around with it to try and match the slow motion, and changed the audio.
This is definitely an area to improve, but I'm happy with my first actual attempt, and think it adds a ton to the video in addition to the song track.
Tracked Title
I spent 2 hours messing around with this, and just didn't like the results. It overlapped funny and was wonky. I need to plan a shot better to actually show this, and scrapped it after a late night in the edit booth.
Fully faked composite.
Similar to the above, I didn't get a shot I was happy enough with to use anywhere. I learned a ton, but really to do this week need to think about using a green screen of sorts to actually do this at a quality level I'm happy with.
Summary
Many thanks to my incredible hand model / bartender Bro Leary Keegan! His youtube is full of good shit...and he's quite a writer as well. Now he can add bartender / model to the list!
This was fun. The making of should be fun to edit down too. I've signed up for an online course on how to make product videos and have this as my very first to see what I can improve after learning from the pros.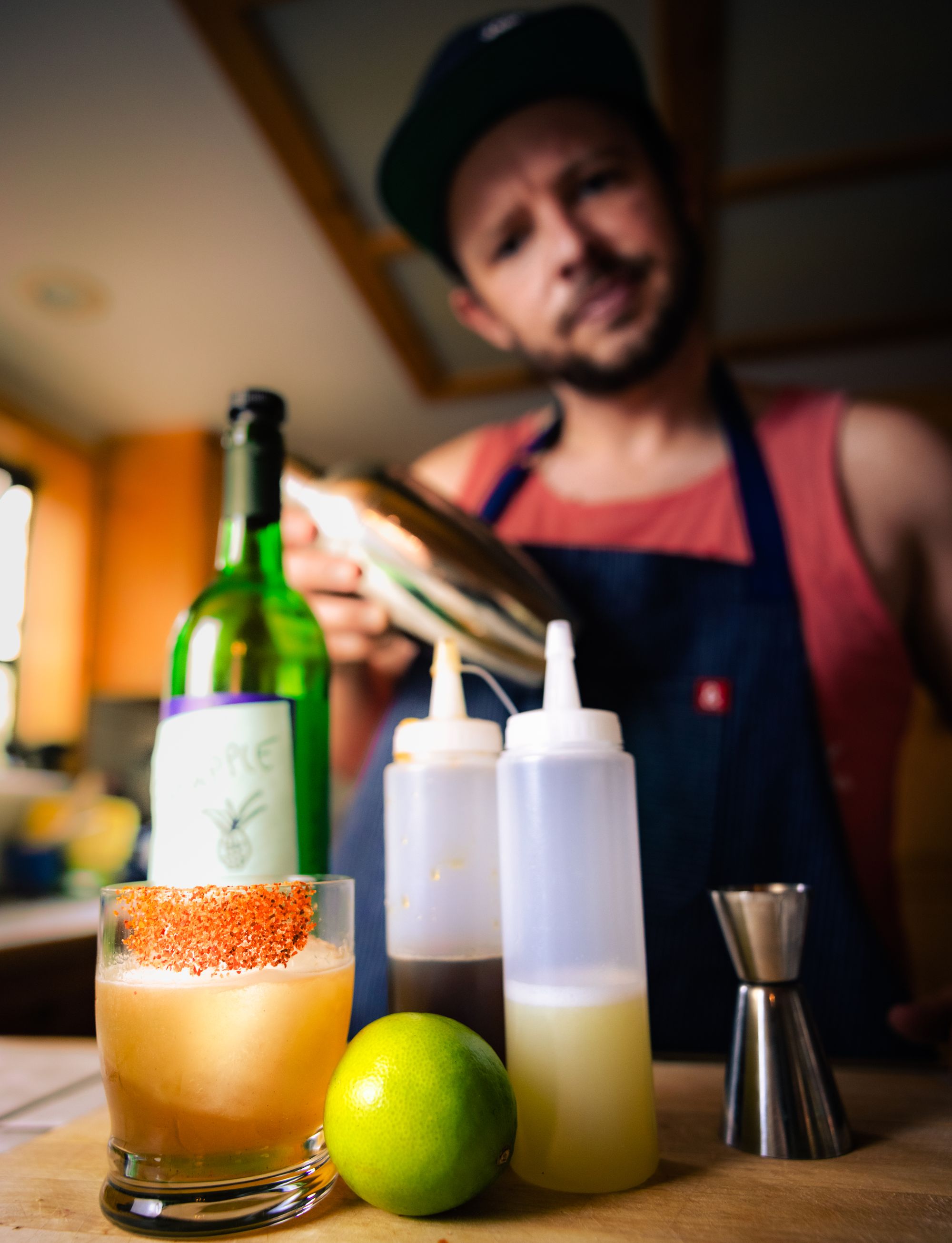 ---
Subscribe
Join the newsletter to get the latest updates.
---