lots of images...best viewed online and not in email.
🚨⚠️ Content Advisory / Disclaimer ⚠️🚨. This is a retrospective in what NOT to do. Head elsewhere for a proper guide on how to train for the Honolulu marathon. If you have minimal time, want to laugh at my mistakes, and see what a non-runner did to survive and finish with a respectable sub 5 hour time and still be to walk after, read on.
Plenty of time…
Right after signing up I did a little research and talked with a few people that'd run marathons before. I had lots of time ahead of me. Most advised - run regularly, get time on your legs. I'M SUPER MOTIVATED, right? My numbers are downright shameful 🙈
March: 2 runs for 7.3 miles
April: 6 runs for 26.7 miles
May: 5 runs for 26.8 miles
June: 3 runs for 13.3 miles
July: 5 runs for 20.2 miles
August: 5 runs for 25.2 miles
September: 7 runs for 34.7 miles
I spent 7 months doing nothing to improve my running ability, usually running once a week for 4-5 miles. I usually stopped every 2 miles to cool down from overheating. Most plans advised at least 6 months to prep. Oops.
Key takeaways:
Surfing is REALLY hard and REALLY fun! That's most of what I'd learned about running over the six months.
I am VERY sweaty. This was going to be an issue. Anything over 4 miles and I'd be completely soaked through.
Slow and steady: My knee wouldn't bother me if I kept my pace above 10 min/mile. Even on the "longer" runs of 7-8 miles, slow kept me able to walk the next day.
September 22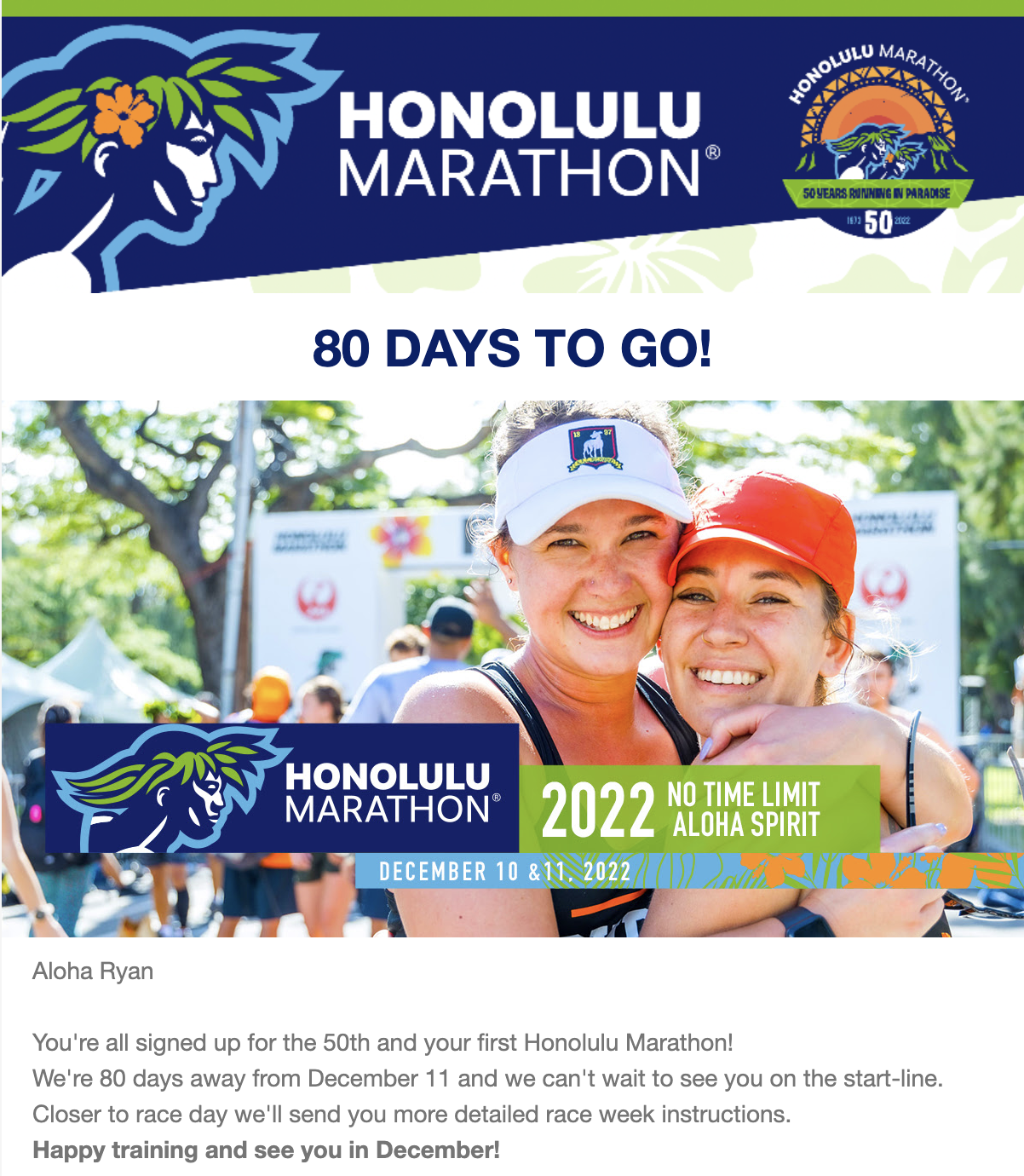 WHAT!? 80 days to go?! YIKES. BIG YIKES. This email terrified me. I was definitely not ready. So I booked a trip to California to go backpacking in Desolation Wilderness and ignore running for a bit…
Getting serious
The fear had set, right after arriving in Tahoe I went on a 7 mile run along the Truckee river and a 4 mile run the next day along the Donner crest. 2 runs in 2 days, followed by 4 days of hiking.
The day after the backpacking trip I was back in the bay area and threw down a massive 10.0 mile run. I barely survived mile 10, everything hurt. The flight back to Hawaii was painful. My legs were fine…but the rash from the sweat in my waistband and ass cheeks was unbearable. I squirmed the entire flight. 3 days later I went for a 5 mile run, memorably titled "Legs good, cardio good, feet good. Ass rash pain".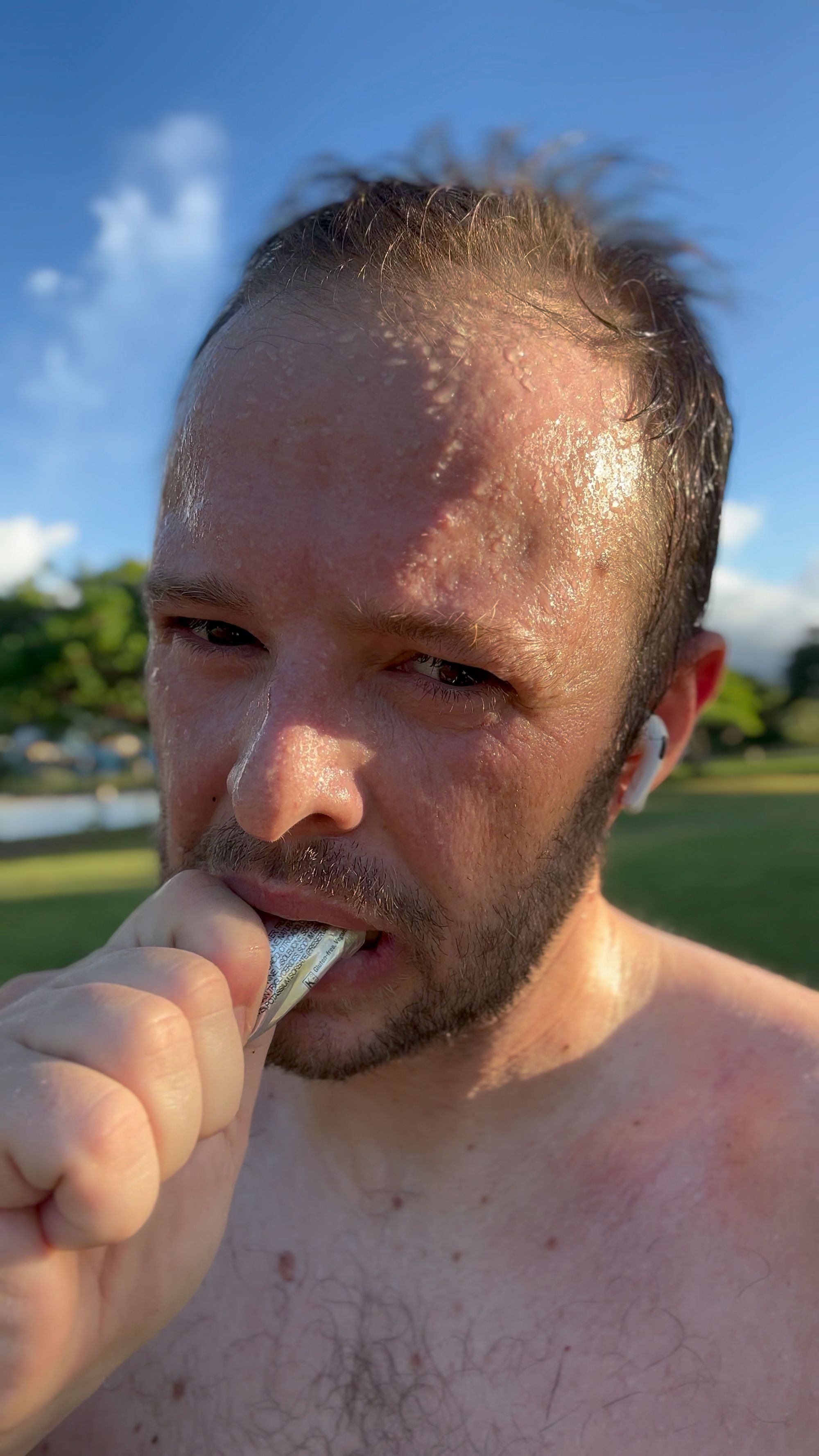 But I now had a training plan, cobbled together to build up to a 20 mile run in 6 weeks, 22 after that, and then a little recovery time.
The first long run
After a consistent week the 10th-16th, I wavered early the 17th-23rd. My inner bitch took over, so I told myself I needed to go big Saturday Oct 22nd and planned a 14 mile route.
This was a memorable run. It showed how unprepared I was.
I started at 4:38AM to beat the heat and headed out on am empty stomach. 1 mile in it was pouring rain. I was already soaked through, and I had to hide from the downpour under a bus stop. Everything told me to just go home and try again tomorrow. I waited for the downpour to turn to a sprinkle and hit the pavement, passing through Ala Moana, Waikiki, and around Diamondhead. At 13.5 I bonked, Hard. I could barely keep my legs moving. I managed to get home, threw a towel down on the floor and laid there for 30 minutes trying to drink some water, but feeling nauseous. Hitting water fountains along the way was not going to be enough during training.
A friend texted they were on their way over to watch the UFC fights that started at 9am. I'd basically forgotten I was hosting, so I got up and willed myself into making breakfast. Rice, over easy eggs, Portuguese sausage, with a bit of shoyu and sesame oil became my savior. My body was SO happy. I ate my friends serving too and immediately felt amazing. The 10am beer during the fights was delicious.
Key Takeaways:
I needed to figure out food and hydration.
My body was holding up, but I need to be really cautious about injuries (including rashes)
Regular training - two serious months
Everyone has their tips. When a coworker asked "How do you train for a marathon? Where do you even start" I quipped "I don't really know. Lace up the shoes and go run until you can't anymore, and then just do that a lot". That's probably the best advice. But here's a lot of detail on what really made a difference:
Ramping up miles with the hopes of preventing injury
Training wisdom says DO NOT increase by more than 10% a week. And don't do it every week. I had to throw this out the window, but aimed to keep close to it. There were days I felt strong and had the energy to keep going, but stopped once I hit my planned mileage.
Monday - short run.
Tuesday - medium run.
Wednesday - stationary bike. hard.
Thursday - short run.
Friday - stationary bike. easy.
Saturday - the long run.
Sunday - rest. maybe a small hike or cycle. lots of sleep
Short runs started at 4 miles but eventually became 6. Medium was 7 and became 10. Long ramped up weekly, with a goal to run 22 or 23 miles as biggest training run. I even mapped out a schedule: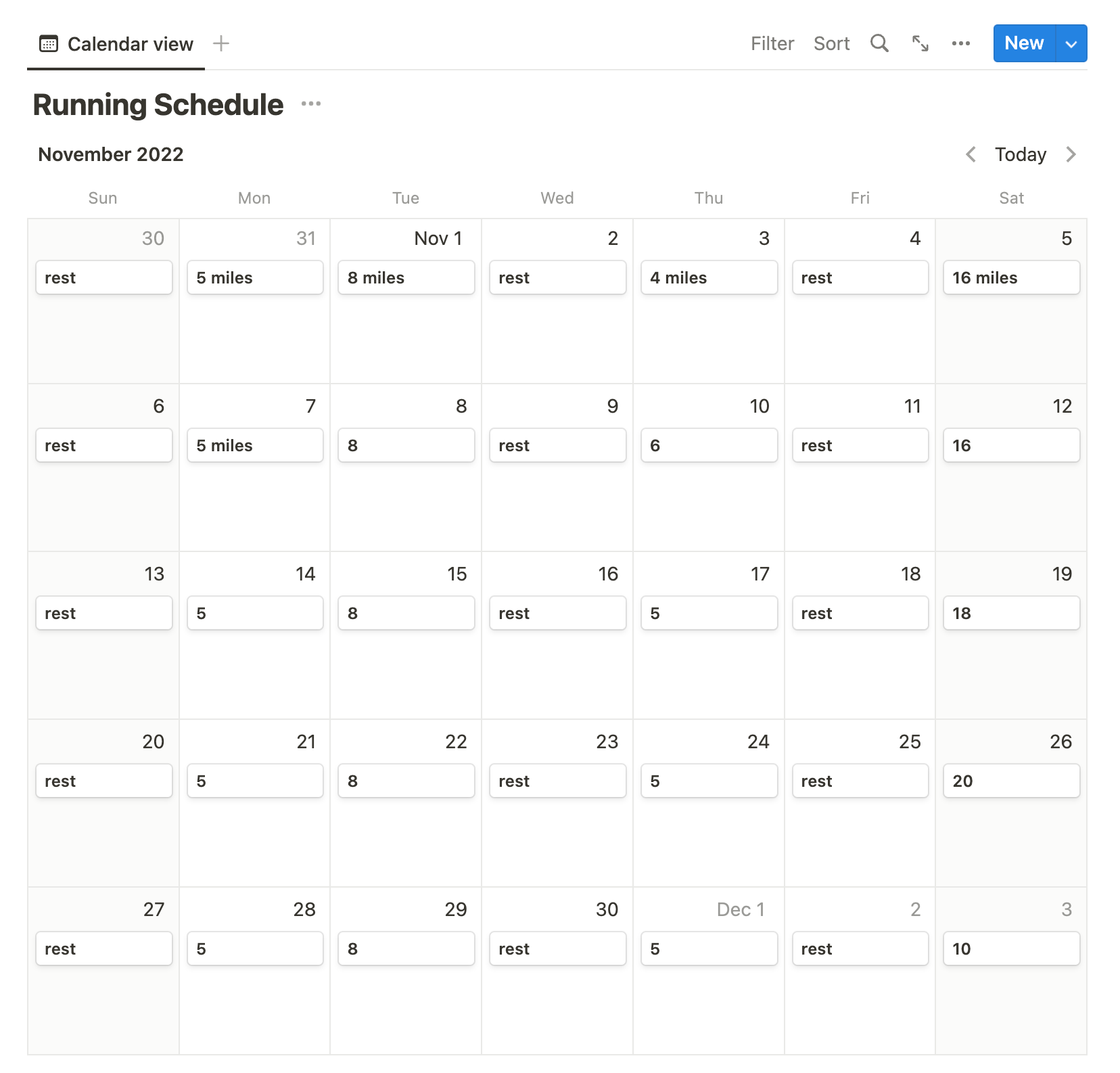 Weekly mileage added up. I was putting some real miles on my feet:
Oct 10-16: 28.2
Oct 17-23: 20.8
Oct 24-30: 31.7
Oct 31-Nov 6: 32.2
Nov 7-13: 35.0
Nov 14-20: 42.1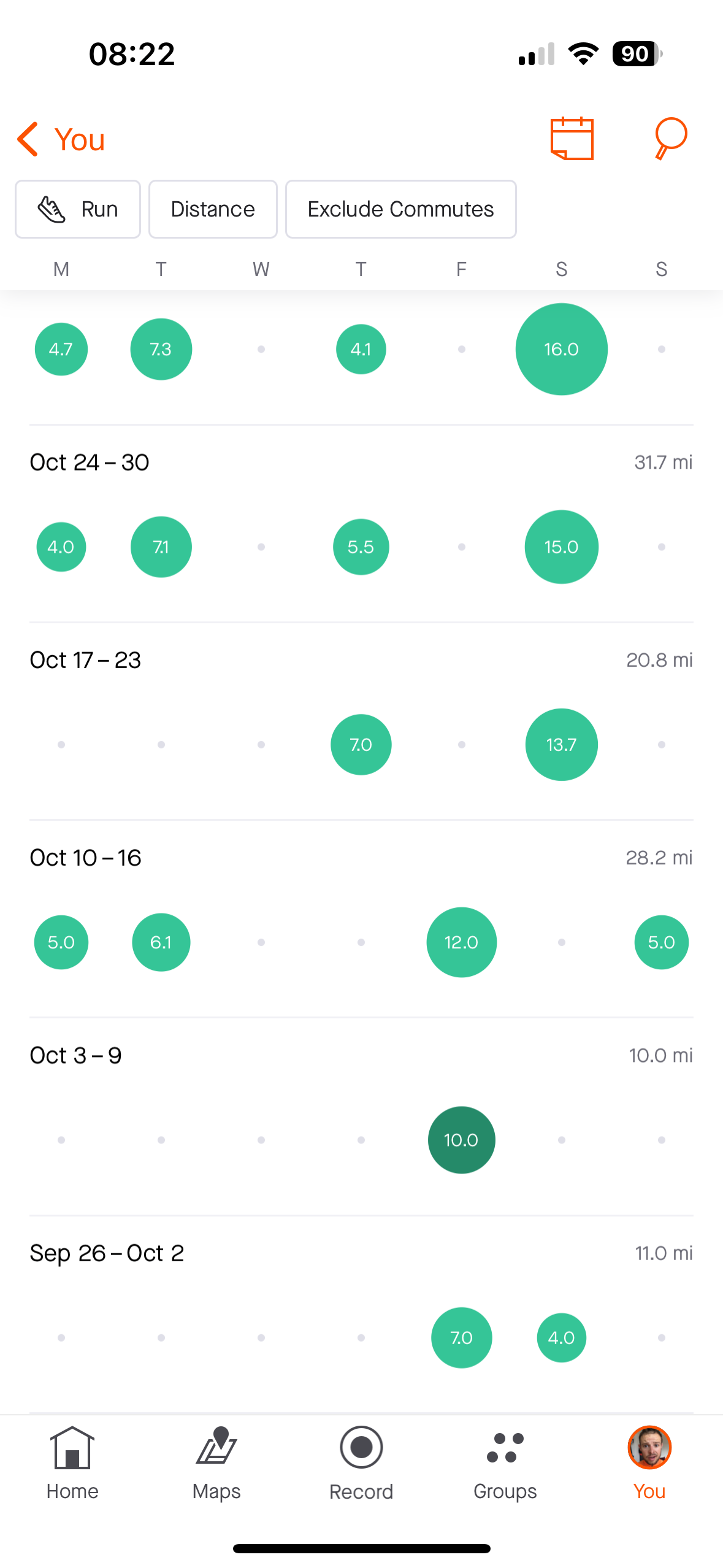 Unexpected things when running:
I got used to waking up at 4am on Saturdays to hit the pavement by 4:30. Waikiki looks really different at 5am, and I'd really only encounter garbage men, homeless, runners with a marathon training tshirt on, or families with clearly jetlagged children out and about.
I know a LOT about public bathrooms in Ala Moana and Waikiki. Running gets my digestive tract going into high gear, so there were many emergency stops. I know where there's hotel bathrooms open 24x7 and which park bathrooms open at 6am after getting hosed down. Ever used a bathroom where everything is dripping wet? At least my sweat puddles didn't stand out in there.
I got new shoes about a month before the event and aimed to get ~50 miles on them before the marathon. My other shoes had right around 300 miles on them, so would be at 400 come race time and I wanted that bonus cushion.
Injury prevention - so much chafing
Have you ever had bloody nipples? I don't recommend it. The salt from all my sweat could cause major issues and was the source of most pain when training. I'd often finish running and my shoes would be dripping in sweat. My shorts were always completely soaked through. It'd take 2 cold showers to stop sweating. Get home, cool down 10 min, shower, eat, shower again.
Body Glide for Her became one of my best friends, and was liberally applied to my chest, all around my waist, and between my legs. Id lather my feet with Body Glide Foot, and while recovering on Saturday an ice cold plunge with epsom salts followed by giving myself a pedicure to file down forming calluses and such.
One way to prevent chafing….is less clothes. So my routine became to ditch my tank top quickly, usually after a mile. It'd become my sweat rag to wipe my face. On one long run I wiped my face so much I rubbed my forehead and cheeks raw and had a nice red face for 4 days.
I even got obnoxious new running gear when the shorts I'd been using seemed saturated with sweat salt that wouldn't wash out anymore. One time I ran with my phone in my pocket and ended up with an iphone shaped rash/bruise on my leg…so I invested in a hip belt for phone/airpods/food.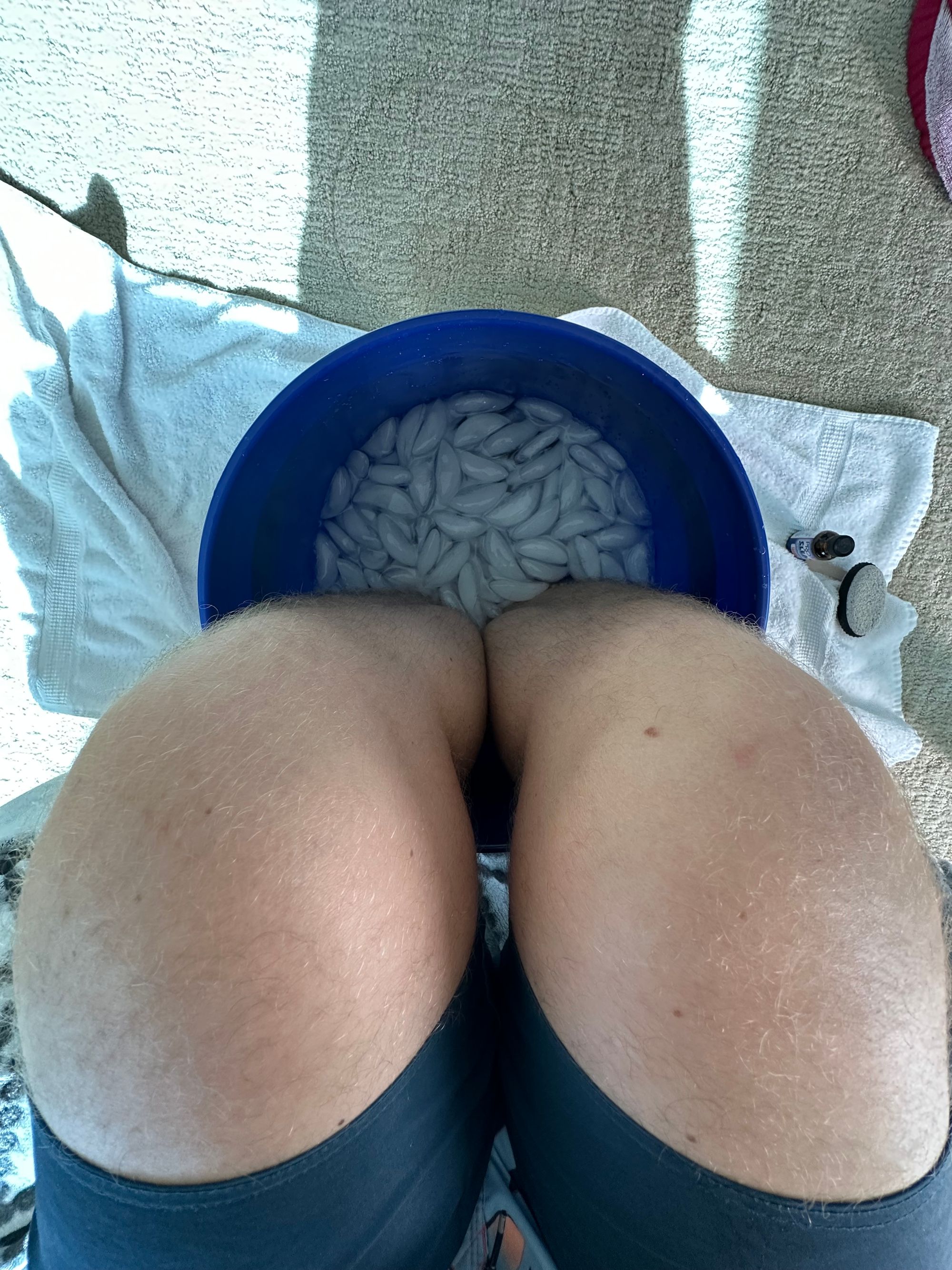 TLDR for those other sweat hogs out there:
Lots of body glide.
Don't wipe your face too much, you'll rub it raw.
Obnoxious neon running gear helps.
Food and hydration - during the run
I was used to long cycling events where I could suck on some water and eat some trail mix or bars to last 4+ hours. Or maybe some oats for breakfast ahead of the ride. Running was different, and I learned most people deplete glycogen stores at 2 hours, but you need to replenish well ahead of that. Given how much I was sweating, I needed some electrolytes too. I devised a simple plan for long runs (anything over 10 miles):
Dinner the night before a long run would be pan-cooked shrimp, salad, and soba noodles.
4am breakfast was overnight oats spooned into half a papaya.
Carry some gel Gu things. Take at the 1 hour mark into the run (usually as I hit the summit of diamondhead).
Carry water. I got an awesome little squeeze bottle thing. Drink a LOT. Support with electrolytes (liquidIV or LMNT) around the 90 min mark.
1 week after I bonked attempting 14 miles I ran the same route, but felt strong and stretched to 15  with my new culinary system. Yes, it's a system, everyone talks about having their system. Runners are weird.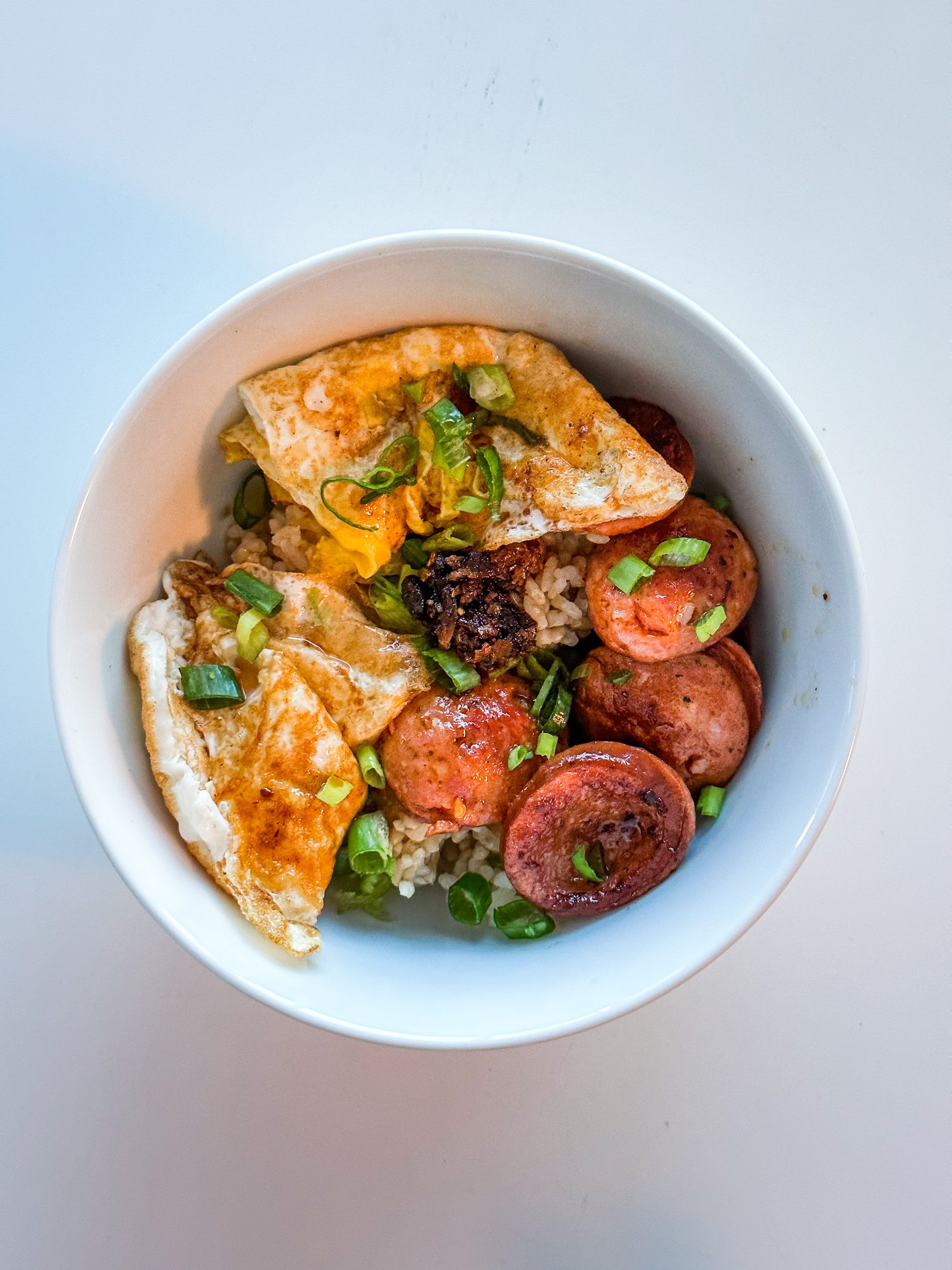 Food and hydration - post run
My appetite was in overdrive. The egg/sausage dish above became my standard recovery meal along with 2 liters of water (1L immediately chugged as soon as I got home with LMNT electroyletes) Lunch would be a salad. Snack all afternoon. Dinner a pizza or massive plate of fried chicken.
Sunday morning I'd wake up at 3 am HUNGRY and finish the leftover pizza. Then head to Kono's for a massive breakfast burrito. I'd essentially eat 2 breakfasts and be hungry for lunch at 11:30.  If you want to eat a TON of food, train for a marathon.
The taper
I completed long runs at 13.7, 15.0, 16.0, 17.0, and 20.0 miles each Saturday . I PLANNED to run 22 2 weeks prior to race day, but took the advice of a close friend who told me over and over and over to NOT do that. I'm glad I took her advice, I went 14 that week instead and tweaked something. If I'd stretched it out, I may have really hurt my leg.
10 miles the weekend before the race felt SO easy. Race week little 2-4 mile things were a joke. I'd still sweat a ton, but think I was ready as could be.
Upsides of training
Training consumed my life for a good 6-7 weeks. Everything revolved around getting my runs in. Eating all the food was a big perk, but I alos loved just getting to know my neighborhood and Honolulu much better, and not just the public bathrooms.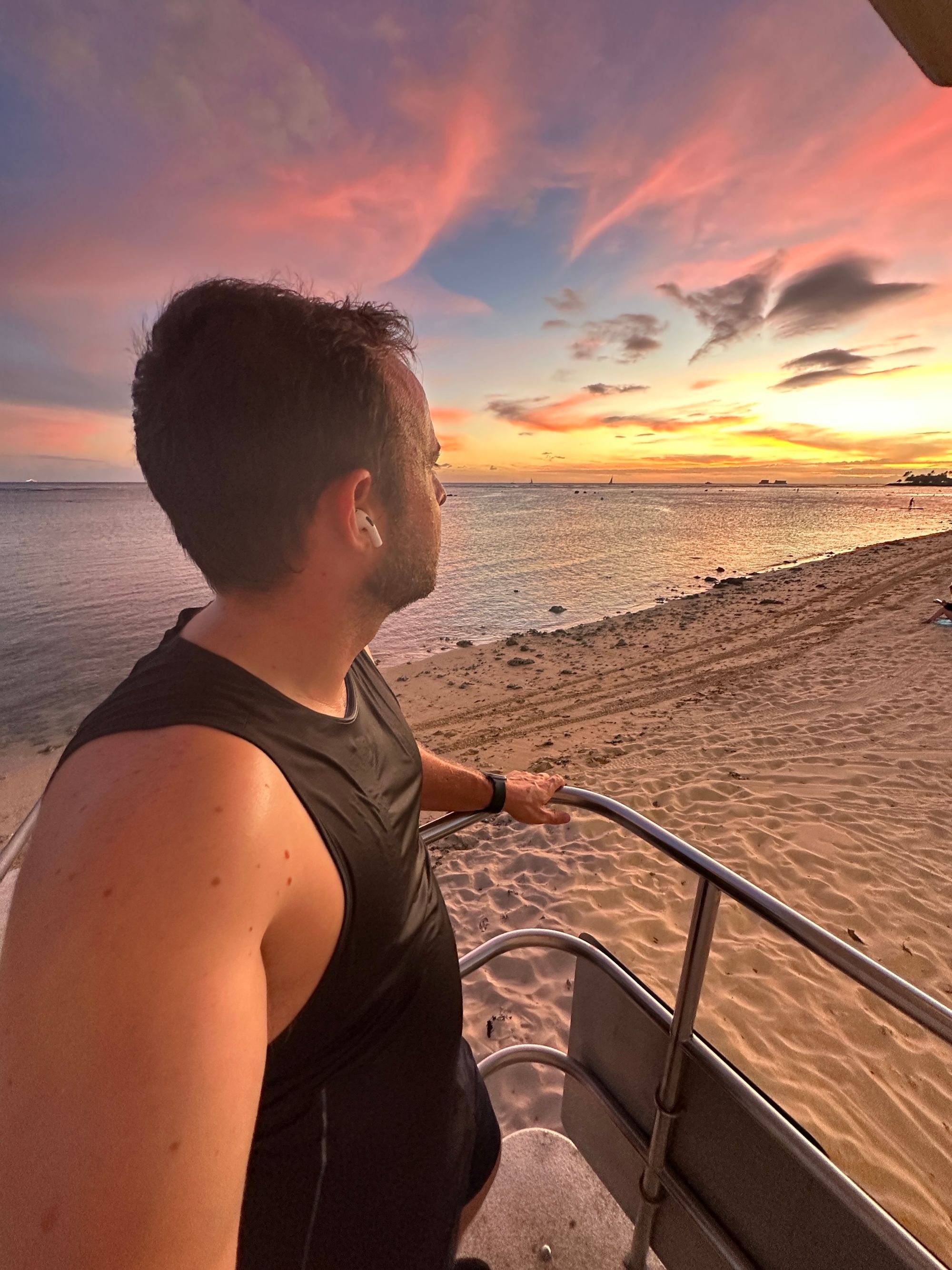 ---
Subscribe
Join the newsletter to get the latest updates.
---